With Lumo you deserve to feel confident and comfortable. Find out more about how we keep our passengers & colleagues safe and help you to travel well beyond expectations. All of our colleagues take part in training programmes so that they can confidently and safely deal with a range of situations and circumstances. We have on-train security systems, including CCTV for your safety and comfort and undertake regular security checks through our on-board Customer Experience Ambassadors.
See it. Say it. Sorted.
We ask that you keep your luggage and personal belongings with you or in sight when you travel with us and if you see something suspicious, or you feel unsafe for any reason when you're travelling with us, inform our on-board Customer Experience Ambassadors, or you can contact the British Transport Police by:
The Railway Guardian App (available through the app store)
If it's an emergency, please call 999.
British Transport Police
Here at Lumo we work closely with the British Transport Police to help keep our passengers safe, happy and secure. That's why you'll often see their officers travelling on our trains. British Transport Police is the police service for Britain's railways, helping the nation's travelling public get home every day safe, secure and on time. Sometimes incidents will require the British Transport Police for assistance.
Find out more about the British Transport Police and how they make our railways safer
.
When to contact the British Transport Police?


Text 61016*, report via the Railway Guardian app (available through the app store) or call 0800 40 50 40 when:


•
Y
ou want to report an incident discreetly that has already happened
•
I
ssues are affecting you at the station or on-board the train
•
Y
ou have a general police enquiry
The text number is monitored 24/7 and, while it is not for reporting emergencies, British Transport Police will send officers if required.
*Your mobile service provider may issue a small charge to text 61016. The exact cost will depend on your network and tariff.
You can visit their website at
www.btp.police.uk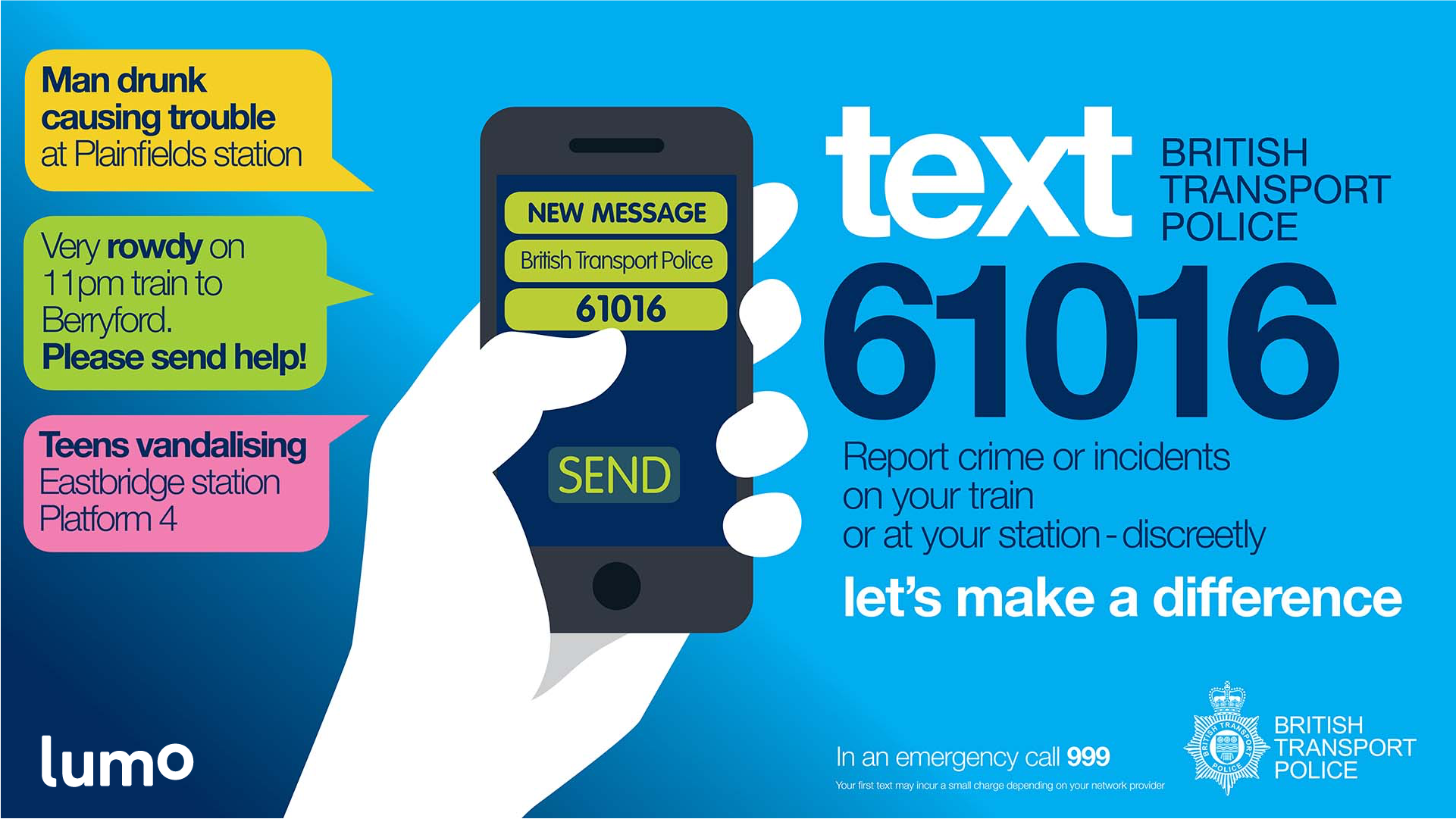 When to dial 999?
Always dial 999 when you need an urgent police response such as:
•
A
crime is happening
•
S
omeone suspected of a crime is nearby
•
S
omeone is injured, being threatened or in danger
CCTV and body cameras
All of our trains, and most of the stations we serve have CCTV systems, which means a safer environment for our customers and colleagues
Some of our colleagues also wear small body cameras or 'Body Worn Videos'. These measures are for everyone's safety and security, allowing us to capture incidents on film so that we can deal with them when they're reported.