SEPTEMBER 2021
1. BACKGROUND
The provision of accurate and timely information to our customers and colleagues, particularly during times of disruption, is essential. At Lumo, we use the guidelines set out in the Passenger Information During Disruption (PIDD) Approved Code of Practice (ACoP 14), prepared by the Rail Delivery Group (RDG), to structure our approach to the provision of customer information. This then gives our customers the information they need to be able to make informed decisions about their journeys both during normal running and when there is disruption. We fully support the aspirations in the RDG ACoP and this Local Delivery Plan details how we will specifically manage the end-to-end delivery of information, tailored to local delivery requirements for the benefit of our customers. It also identifies the actions we will take to continuously improve the provision of customer information so that we can harness future innovation opportunities as they arise. Furthermore, we commit to publishing a link to the RDG ACoP on our website.

Through Network Rail and the RDG we will be working with them to produce our Pledges which is the new industry way to outline what good looks like. Please visit https://www.raildeliverygroup.com/uk-rail-industry/about-my-journey/pledges.html to find out more information.
This Local Delivery Plan should be read in conjunction with our Emergency & Incident Response Guide which provides measures and actions to support the processes detailed here.
We will review these arrangements on an annual basis; when there is organisational change related to the roles referred to in this plan, whenever an update to the RDG PIDD ACoP is published or following a CSL2 Black event.
2. OBJECTIVE AND AIMS OF PIDD
Our objective – The timely and reassuring provision of accurate and consistent information to customers during disruption so that they can make well informed travel decisions.
Our aims – This document details how we aim to deliver information to our customers during disruption. This also outlines how we aim to achieve compliance with all relevant sections and standards contained within the RDG Code of Practice (ACOP014) (Issue 2 October 2016). Any divergence from this is explained, as are any resulting alternative approaches taken or actions in place.
3. INTERFACE WITH NETWORK RAIL AND OTHER ORGANISATIONS
We shall foster close relationships with Network Rail (NR), Train Operating Companies (TOCs) and other organisations who have an impact on the smooth running of operations and customer touchpoints. To this end, requirements are in place so that the most current, relevant information regarding any perturbation to the service is disseminated in a precise, correct and timely manner to passengers. This shall be done through a variety of passenger facing mediums, such as the journey check section of our website www.journeycheck.com/lumo, our app LumoGo, through Twitter; at stations using customer information screens (CIS), announcements and station colleagues and through on train information screens and announcements.
Close working between Network Rail and our Operational Control team is vital to allow for the efficient passing of information and the achieving of success with the PIDD process, hence our location as part of their integrated control centre. The key actions of the Network Rail teams are focused on managing incidents and recovering the service. Detailed in section five of this delivery plan are the disruption thresholds and expected levels of communication required. These requirements are captured in our operational procedures and processes and support the approach of complete transparency and knowledge sharing between all stakeholders. Information received by both Network Rail and Lumo Operational Controls will be passed on as soon as this becomes available.
4. COMPLIANCE
This Local Delivery Plan describes how Lumo and Network Rail (NR) will jointly deliver information to customers during disruption, meeting the standards and principles described in the ACoP, as relevant to our operation. It also includes details of how we measure our performance and continually improve the service that we deliver.
5. KEY REQUIREMENTS
5.1 SERVICE DISRUPTION THRESHOLDS & CUSTOMER SERVICE LEVEL 2 (CSL2)
CSL2 refers to the declaration of an incident that significantly impacts the running of our services on the railway. The table below defines the threshold levels that categorise service disruption.
DISRUPTION THRESHOLD LEVELS

CODE

CRITERIA

PIDD STATUS

BLACK

Severe Service Disruption:

A route closure expected to last at least four hours

OR

Severe weather related or other external disruption expected to last at least four hours

OR

Any incident causing the withdrawal from service of an entire fleet type

CSL2

1

RED

Major Service Disruption:

Two or more trains either cancelled, part cancelled or at least 60 minutes late

OR

Diversions possibly in operation which removes booked station calls

OR

Any partial route closure or incident expected to last in excess of 2 hours

CSL2

2

YELLOW

Medium Service Disruption:

One or more trains delayed by at least 30 minutes

OR

One or more trains cancelled or part cancelled

OR

Diversions possibly in operation which do not impact on booked station calls

CSL2 will be declared

2

GREEN

Minor Service Disruption:

Delays up to 29 minutes on one or more services on a Line of Route

OR

Normal timetable maintained

N/A

3
Code Black, Red and Yellow events are managed and supported by the procedures outlined in the Lumo Emergency Plan. Lumo Operational Control is responsible for declaring CSL2, however this can be instructed by the Lead On-Call Manager (LOCM) as deemed necessary. Code Green incidents will be managed by Lumo Operational Control with the LOCM only being involved if absolutely required. We will review the thresholds on an annual basis to ensure that they reflect long distance services and are fit for purpose for the frequency of timetable that we operate.
5.1.1 THE END-TO-END PIDD PROCESS
To effectively deliver the above requirements, Operational Control and Customer Service colleagues are required to have an understanding of the overall end-to-end PIDD process.
Specific responsibilities to deliver the end-to-end process are contained below and supported by the Lumo Emergency Plan. The On-Call procedure has been developed and the appropriate On-Call Manager training has been completed.

All Lumo colleagues have been briefed and provided with a guidance on their roles and responsibilities when a CSL2 incident is being managed. They are also encouraged to use their discretion to deliver the best possible service for our customers. This includes the request and provision of taxis for onward travel through our Operational Control team.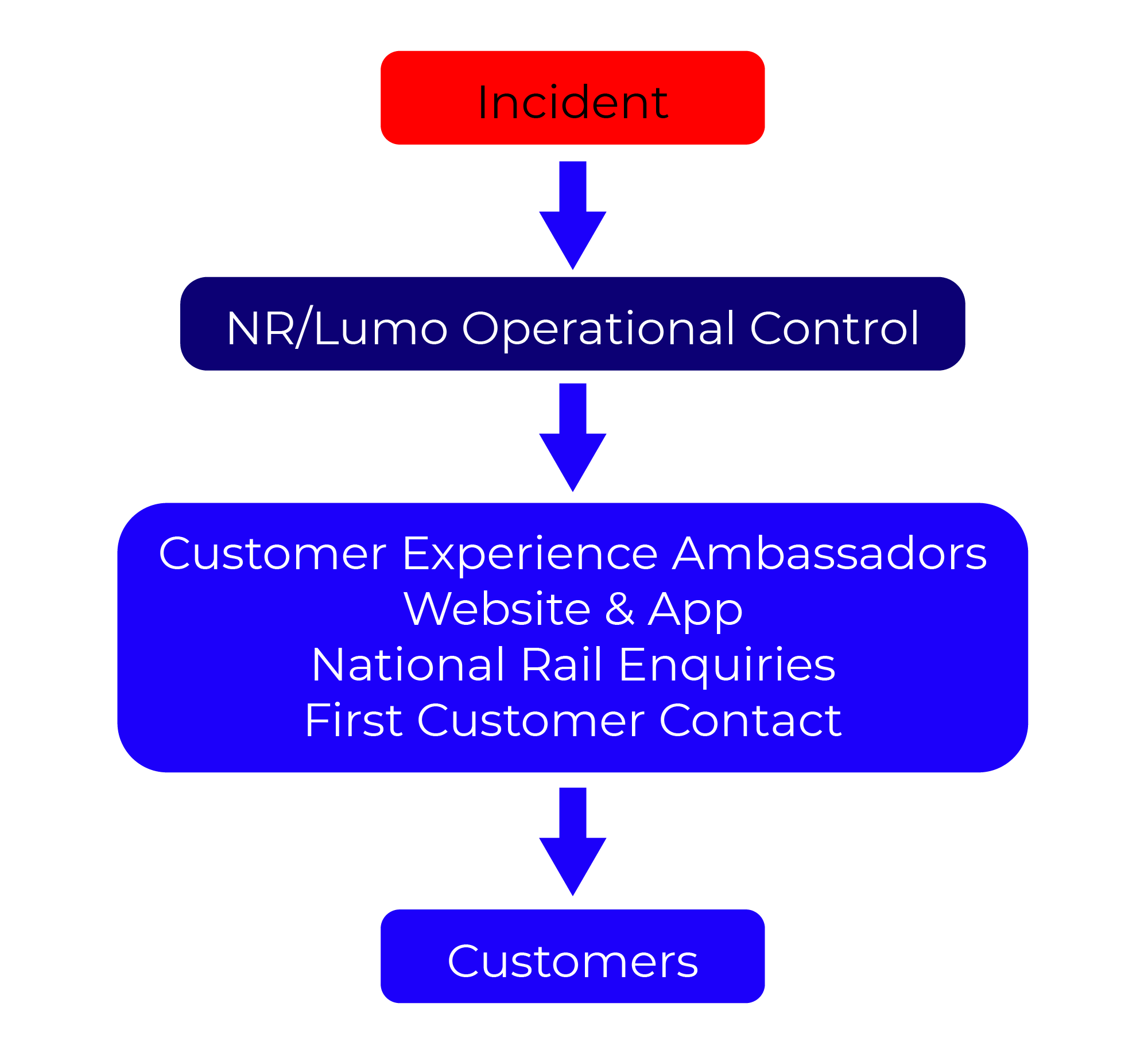 5.2 OPERATIONS
5.2.1 THE OPERATIONAL CONTROL CENTRE
The Operational Control team is essential to the provision of good customer information at times of disruption. Specifically, all customer and colleague information relating to Lumo service disruption is consolidated and then disseminated by the Lumo Operational Control team.
5.2.2 ISSUE OF AN INITIAL 'HOLDING' MESSAGE
The aim of the 'Holding' message is to give our colleagues, customers and the industry immediate notification of a significant disruption incident, so that they can be in a heightened state of readiness.
The 'Holding' message is issued by Lumo Operational Control and we aim to issue this within 20 minutes of receiving advice of disruption or an incident likely to breach CSL2 threshold. The 'Holding' message will contain the problem, impact and advice information as follows:
The Time – when the message was sent – crucial for tracking communication flows.
The Location – using the principal calling points either side of a problem.
The Problem – using industry agreed template phrases.
The Impact – describing what the problem has caused.
Advice to customers (where possible).
The Disruption Threshold (red, yellow, black), crucial for triggering local actions. This information will be issued by a distribution system and the information will be displayed on the Lumo website home page and on www.support.journeycheck.com/lumo pages. Updates will also be provided by e-mail to those teams in registered groups defined in the messaging system, such as colleagues, stations, retail ticket providers and the National Rail Contact Centre.
5.2.3 MOBILISATION OF OPERATIONS, EMERGENCY PLAN AND CUSTOMER SERVICE/SUPPORT COLLEAGUES
The process and responsibilities to initiate these are detailed in the Lumo Emergency Plan. Lumo Operational Control will contact the LOCM in line with Lumo Emergency Plan.
5.2.4 ON-CALL RESPONSE
Details of the on-call responsibilities are outlined in our internal document, the Lumo Emergency Plan.
5.2.5 COMMUNICATIONS - ROLES AND RESPONSIBILITIES
The procedure for escalating incidents is also outlined in the Lumo Emergency Plan. If Lumo Operational Control believes an incident could gain media attention, they will contact the Gold Commander who will escalate issues in line with the Lumo Emergency Plan and business continuity arrangements.
The prime responsibility of the media response is to provide a specialist media and communications response to major incidents and support the Gold Commander and the Duty Customer Experience Manager (DCEM) in the provision of information to customers via the media.
Following the initial 'Holding' message, a 'Core' message will be distributed by Lumo Operational Control and disseminated through all channels. The information in this core message will include three key pieces of information;
The Problem (including any infrastructure issues)
The Impact on services
The Advice for customers (including additional time customers should allow for their journey time)
The 'Core' message will be as concise as possible, jargon free and clearly timed and dated. It will need to be updated as the situation changes or at no more than 20-minute intervals. It is possible for incidents that are on-going for a 'steady state' to be achieved where the message frequency can be reduced. Where a person has been struck by a train, in line with PIDD 50 we will adopt the description of the incident as 'emergency services dealing with an incident'.
The PR function is carried out by an agency. The Gold Commander will facilitate communications with the media response. They receive all holding and core messages from our Operational Control team and will provide an out of hours response when required. This response may include the issue of press statements and releases. Lumo will also work in conjunction with Network Rail or other TOC's media offices if appropriate.
Lumo Operational Control is responsible for providing information via a messaging system which feeds into DARWIN. DARWIN updates all other industry systems and websites to ensure information is consistent.
Lumo does not directly manage any stations and therefore has no direct control over CIS. To ensure stations are informed, Lumo Operational Control provides up to date information which is disseminated via DARWIN to other TOC Controls, local screens and station announcements.
5.2.6 ALTERATIONS TO TRAIN SERVICES – PLANNED AND UNPLANNED
Planned contingency timetables such as extreme weather emergency timetables, where an entire day's service may be changed at very short notice, have been compiled and submitted to NR to achieve the aspirations set out in the NR Contingency Planning Day A for Day B document. For these to be enacted we need to be aware of events that have the potential to stop the running of the normal timetable with at least 36 hours' notice or enough time to be able to be delivered to NR systems before 2200 the day before service, i.e., heavy snowfall or emergency engineering work. When a Day A to Day B timetable is implemented the Planning and Performance Manager, or nominated deputy, will check that the timetable uploaded is correct and reflects the service that we are able to operate. (PIDD 05 & 06).
Individual train alterations are currently published via the messaging system by Lumo Operational Control and these automatically update live apps, websites, live departure boards, Journey check and Journey Planner. If alterations are known the previous evening, the individual trains will be amended using the messaging system and the information published as far in advance as known.
In the event of overrunning engineering works we will work collaboratively with NR and other operators to develop contingency plans which promote the quickest and safest recovery of infrastructure given the available resources. NR and other operators shall be responsible for ensuring that they have adequate resources in place prior to the commencement of works and shall host regular milestone conferences. Our Operational Control team will be adequately resourced to implement any plans created by our Planning team in such an event (PIDD 46).
We will ensure that reasons for engineering works are displayed on our website and any literature, including station posters, so that customers are aware of the reason for the works taking place (PIDD 48).
We will make clear to customers during the booking process where there are planned disruptions and where it is likely that the journey may differ from normal, i.e., where a rail replacement bus/coach replaces a train service (PIDD49).
5.2.7 ONE VERSION OF THE TRUTH
To ensure that the provision of information to customers and first-line teams is consistent between all TOCs and NR, the reason for the disruption will be agreed with our Operational Control team and the reason will be communicated by the core message. If discrepancies are identified, Lumo Operational Control must be notified, and steps will be taken to provide one version of the truth.
The Journey check section of our website www.support.journeycheck.com/lumo
We will also feature any disruptive events to other operators, using the route through a feed from the DARWIN system. (PIDD 7).
We will carry out an annual check of TOC addresses linked to our messaging system to ensure these are correct. (PIDD 11)
5.3 CUSTOMER EXPERIENCE
5.3.1 CORE MESSAGES
During a CSL2 event, after the release of the initial Holding message, a Core message will be provided at twenty-minute intervals to provide an ongoing story of the event. (PIDD 14)
It will cover:
The Problem (What has occurred?) including any infrastructure issues.
The Impact on services (What does it mean for customers?).
The Advice for customers (What customers should do?) and additional time customers should allow for their journey time.
This will continue to be distributed until a steady state is reached or the disruption has cleared.
When incidents that are on-going in nature achieve a 'steady state' Lumo Operational Control can consciously approve an amendment to the frequency of core message updates. An example of when a steady state is achieved could be:
Incidents that continue overnight.
When a contingency timetable has been implemented and is working without alteration.
The milestones within the prioritised plan to rectify the situation are significantly more than twenty minutes apart.
Service frequency does not require twenty-minute updates.
END OF CLS2
CSL2 will be withdrawn when the following criteria are achieved:
The disruption has ended and train services have resumed to normal running.
A temporary timetable is produced and published on the Lumo website and all information channels have been informed of the temporary timetable.
The end of service each day.
5.3.2 ALTERNATIVE ROUTES AND TICKET VALIDITY
Our aim is to provide pre agreed ticket acceptance on alternative routes when CSL2 is in operation. Until CSL2 is in place for a TOC, Lumo Operational Control will agree ticket acceptance for each incident with affected TOCs and communicate this to colleagues, stations and contact centres.
Alternative route maps have been published for customers and will be distributed when appropriate to the disruption. These include estimated time durations for the sections on the alternative route.
LOCAL AGREEMENTS
On acceptance of other TOCs' tickets on our services, relevant first-line colleagues, Customer Experience Ambassadors and station teams will be frequently updated on the commencement, duration and reasons for ticket acceptance.
5.3.3 CHEAPEST TICKET AND DO NOT TRAVEL POLICIES
When services are diverted due to disruption then the cheapest ticket is to be sold.
If peak restrictions are lifted, then the cheaper Off-Peak fare is to be sold.
During a CSL2 Black event, consideration will need to be given as to whether the Not to Travel Policy should be implemented.
Following discussions with the Gold Commander, the LOCM will advise the Operational Control when it is deemed appropriate for customers to be advised not to travel. (PIDD 01).
5.3.4 OTHER TOC'S CUSTOMERS
We will make every effort to assist other TOCs' customers in completing their journeys. If they are receiving enquiries from other TOCs' customers, Lumo colleagues will assist these customers, providing them with information where possible with their onward travel requirements and if necessary, may contact Lumo Operational Control. This mechanism ensures that if a communications breakdown occurs it is rectified at the earliest opportunity.
5.3.5 CUSTOMERS WITH ASSISTANCE AND ACCESSIBLE TRAVEL NEEDS
For customers that require assistance with the transfer of trains at intermediate stations, our Customer Experience Ambassadors will assist or contact the appropriate station to request assistance for the customer arriving on a specific train. Where a customer starts their journey at a station during disruption, the station colleagues will provide assistance or the Passenger Assist team will make alternative arrangements for them where a station is unstaffed in line with the Lumo Accessible Travel Policy.
5.4 AT STATIONS
5.4.1 CUSTOMER INFORMATION SYSTEMS (CIS) AND ANNOUNCEMENTS
We do not directly manage any stations and therefore have no direct control over station CIS; however, we do have regular review meetings and interfaces with Station Facility Operators to ensure they meet the needs of our customers. We are committed to the 'One Team' station approach where customers are dealt with consistently by all colleagues, regardless of who they are travelling with.
To ensure stations are kept informed our Lumo Control team provides up to date information via DARWIN in order that updates are completed on local screens and station announcements.
We have contingency plans in place for actions and responses in the event of train failures or line blockages. As part of these plans Lumo will deploy Customer Actions Teams (CATS) to stations as appropriate to the contingency plans. The CATS assist with the provision of customer information, co-ordinating road transport and the delivery of customer service contact information. They also assist in checking that departure boards and information screens on platforms are displaying accurate information at the station.
We will monitor compliance of on station automated announcements and collate customer feedback, using mystery shoppers and CAT members. We will liaise with station managing TOCs on a quarterly basis to review evidence of non-compliance and in sharing best practice.
5.5 ON THE TRAIN
5.5.1 INFORMATION FLOW
Our Operational Control team provides information directly to Customer Drivers and Customer Experience Ambassadors. These colleagues will continue to liaise with our Operational Control team as and when appropriate. In addition, all Customer Drivers and Customer Experience Ambassadors have been provided with a mobile device to receive holding and core messages. Every Lumo service has a Customer Experience Ambassador available to provide information and help to customers on board the train. All our trains have a public address system, and it is the responsibility of the Customer Experience Ambassador to provide accurate and timely information to the customers on board during disruptive events or where more information needs to be provided to customers. We operate both automated and manual announcements on board all our trains.
5.5.2 SHARING INFORMATION
Customer Experience Ambassadors will share information that is received either from the Customer Driver or by other means (e.g., mobile phone). It will be the responsibility of Customer Experience Ambassador to ensure they disseminate the information during CSL2 to all other on-board colleagues.
Any colleague travelling on board a train service affected by disruption should, where possible, contact the Customer Experience Ambassador to advise of their availability and assist customers as appropriate. In the event the Customer Experience Ambassador cannot be contacted for any reason, colleagues should make themselves available in any case, utilising any information available, including through use of their smart devices, in order to help customers. We will conduct an annual review to ensure that contacts remain relevant and are included in systems which send messages out, (PIDD 11).
5.5.3 ANNOUNCEMENTS
Announcements not only provide information, but also help to reassure customers. During CSL2 level disruption the Customer Experience Ambassador will be responsible for providing information to passengers using the PA. Within two minutes of being notified of disruption or the train having come to a standout of course, they must:
Notify customers that they have come to a stand and are investigating the cause of the delay.
The Customer Experience Ambassador should then:
Investigate the reason for the delay and obtain a suitable understanding which can then be conveyed to customers.
Notify customers of the actual reason for delay and any actions that are being taken to rectify this, along with an estimation for a resumption of the journey.
Provide an update at least every 10 minutes (or if the situation changes, whichever is soonest). The 10-minute timescale should be adhered to even if no new information has been received and the disruption has reached a steady state.
At the resumption of service provide revised arrival times and connectional information where appropriate.
Where a PA is not available for any reason, information should, where possible, be given to customers face to face. In this event, every effort will be made to adhere to the 10-minute frequency.
The Core Message will be used as the basis for the announcement. In all cases the Customer Experience Ambassador will make an announcement even if no or little information regarding the disruption is known and provide updates as they occur.
Announcements will explain what the problem is (if known), what the impact will be to the journey, what advice or instructions are on any alterations to that journey, including alternative arrangements.
Information regarding the customer's right to claim compensation will be announced and displayed on the on-board screens once the delay threshold has been reached (through activation by the Customer Driver or Customer Experience Ambassador), along with advice on how to claim on the Lumo website. Compensation claims forms are also available on board the trains. This will be monitored through mystery shopping surveys and the successful return of compensation claims from delayed trains. (PIDD 17).
5.5.4 FACE-TO-FACE CUSTOMER INFORMATION
Speaking with customers face to face gives extra reassurance. Our Customer Experience Ambassadors will be visible at all times on board during CSL2 disruption. Where possible, the Customer Experience Ambassador will walk through as necessary and provide face to face information updates.
At stations, the CATS will assist with customer information, co-ordinating road transport and the delivery of customer experience contact information.
5.6 INTERNET, SOCIAL MEDIA, CONTACT CENTRES AND INTELLIGENT ALERTS
5.6.1 INFORMATION DURING THE INCIDENT
Information published on the Lumo web pages is updated via the designated messaging system.
During severe disruption a temporary timetable may be published on our website. The homepage will also be provided with a screen banner to highlight the disruption to services which also displays when viewing the website on a mobile phone. Changes to services will also feed directly into the Lumo app LumoGo. (PIDD 1 & 14).
Where a train is cancelled, regardless of operator Lumo web and app-based ticketing systems are designed to use information from DARWIN so that they will not allow a customer to purchase a ticket for that train. (PIDD 3 & 7)
Our Twitter facility tweets all service disruption that impacts our services. The Social Media team at the external agency receive all Lumo messages and CSL2 updates and are available 24/7 so will provide updates to customers. (PIDD 37)
We provide support through live chat, aftersales, web support and by email. Our contact centre receives holding and core messages via e-mail and has access to the Lumo website.
The Customer Support On-Call Manager will carry out a real time check of Lumo website, Twitter, NRE service bulletins and associated live departure boards for a random selection of CSL2 red or black incidents to review the accuracy of our website. Webpage images will be captured and compared for consistency as part of the review process. (PIDD 08)
Any discrepancies will be reported to Lumo Operational Control or the external agency for resolution.
5.6.2 INFORMATION POST INCIDENT
Compensation is provided through our Customer Charter and copies of the charter and forms to make a claim are published on the website and are available at staffed stations. Full details on how to claim compensation can be found on our website at www.lumo.co.uk/help/delay-repay.
Information about how to check for and retrieve Lost Property is displayed on our website and is currently available at www.lumo.co.uk.
5.7 LEARNING FOR THE FUTURE
5.7.1 PIDD – FOCUSED INCIDENT REVIEWS
All service disruption is reviewed on a daily basis at the Lumo Daily call.
Additionally, specific incident reviews for Lumo incidents will be conducted to ensure a mechanism for continuous improvement exists. These will normally take place following all CSL2 Red and Black incidents triggering the structured de-brief process. (PIDD 31).
Additional incident reviews may also be triggered by a request from company the Managing Director, Head of Operations or the Commercial and Customer Experience Director. Incident reviews will be completed within two weeks of the conclusion of the incident and involve representatives as required from Fleet, Customer Experience, Operations, Digital and Operational Control. The timescales are outlined as:
Initial review by LOCM / Customer Support On-Call within 72 hours.
Review by Head of Operations / Commercial and Customer Experience Director within two weeks.
Where required, representatives from NR will also be sought.
After all CSL2 red and black incidents the Customer Experience Manager will review all Control outputs and messages and measure these against the standards contained within this document. Should any review highlight changes that need to be made to our procedures these will be added to our delivery plan on conclusion of the review to ensure continuous improvement.
To assist with smaller scale improvements of incident management and passenger communications a Performance Incident Alert will be completed by the LOCM when a full CSL2 review is not deemed appropriate. This will capture smaller incidents that have an impact upon the customer.
We carry out regular reviews of our Service Disruption processes with both Network Rail and the wider industry, including those related to information and will update this document at least annually to reflect the latest changes in processes or our procedures.
In addition, we work closely with the Rail Delivery Group (the rail industry body), through an industry wide Customer Information Group so that best practice is shared and improvements to information provision and systems across the entire rail network can be made. We will request for an independent CSL2 review at least once per year. This will be completed by another TOC or Transport Focus.
We will publish a copy of this Local Delivery Plan on our website.
5.7.2 DELIVERY STATEMENT & DEVICE REVIEW
The Customer Experience Manager will lead a formal review of these arrangements every two years to ensure that the contents remain relevant, up to date and fit for purpose. The outcome of such reviews must be documented.
The Customer Experience Manager will review the effectiveness of the devices issued to colleagues to ensure that they remain fit for purpose. This will include ensuring that devices allow for the effective dissemination of information and the software used not only functions efficiently but takes account of innovations and best practice from the wider industry. We will maintain a fault reporting log and tracker of issues relating to any devices so that a resolution of these can be applied as soon as possible. (PIDD 23).
6. GLOSSARY
ACoP Approved Code of Practice
CIS Customer Information Screens
CIC Customer Information Controller
CSOC Customer Service On Call Manager
DCM Duty Control Manager
DCEM Duty Customer Experience Manager
FCC First Customer Contact
LOCM Lead On Call Manager
NR Network Rail
NRCC National Rail Communications Centre
NRE National Rail Enquiries
PIDD Passenger Information During Disruption
SFO Station Facility Operator
TOC Train Operating Company
TSC Train Service Controller
7. RELATED DOCUMENTS
ACOP014 ATOC Approved Code of Practice – Passenger Information During Disruption – Issue 1 September 2016
Lumo Emergency Plan
Lumo Incident and Emergency Response Guide
Lumo Contingency Booklet
Lumo Customer Charter
Lumo Accessible Travel Policy